Höfn is located on a peninsula in the southeast of Iceland. The name Höfn means harbour and it is a fishing port surrounded on three sides by the sea, with beaches on a long shoreline to the southeast. Shoals and glacial rivers traverse this area with many shifting lagoons and sand reefs being formed. Höfn is surrounded by several small islands to the east of the town, the largest of which is Mikley, followed by Krókalátur and Hellir.
Höfn is one of very few harbours in the southern part of Iceland and it needs to be navigated with care due to the changing pattern of shoals. Dredging is an essential requirement to remove sand that has accumulated near the harbour so that ships can safely moor. The entrance channel to Höfn port has a minimum depth of 6–7 metres (20–23 ft). However, the depth at the entrance itself is 7–8 metres (23–26 ft). The harbour at Höfn is reported to freeze during periods of extremely cold weather.
Eagle Airways operates domestic flights from Höfn airport and the town is a major centre for visitors to the Vatnajökull Glacier. Höfn lies at the end of Road 99, which leaves Iceland's National Road 1 several kilometres north of the town.
– wikipedia.org
The Vatnajökull Region,
—————————————————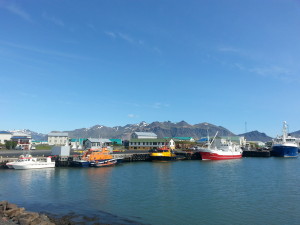 We hope you can find all the information needed about the southeast part of Iceland. This is not the official website of Vatnajökull region, you can find it here.